Are you planning to take your electric skateboard on a plane? You might be wondering are electric skateboards allowed on planes? After all, there are restrictions on the size and weight of items that can be brought onto an airplane. But don't worry – we've got everything you need to know about flying with an electric skateboard!
Allow me to tell you what the regulations are and how to prepare for your trip properly. We'll also share some tips for packing and storing your electric skateboard so that it arrives safely at its destination and be crystal clear when it comes to answering, are electric skateboards allowed on planes? So read on to learn more about taking your board in the skies!
Quick Guide Electric Skateboards Allowed On Planes
Electric skateboards can be an ideal form of transport for travelers, but they can also be tricky to bring on an airplane. If you've ever needed to bring your electric skateboard on a trip, you've probably asked the question; are electric skateboards allowed on planes?
Here are some simple steps you need to take in order to bring an electric skateboard on a plane; for more details, continue below.
Check with your airline
Remove the battery
Pack properly
Are Electric Skateboards Allowed On Planes: How to Prepare Steps
Following these steps will help ensure you understand the rules regarding electric skateboards and pack/prepare your device properly so you can bring it on your flight without issues.
Step 1: Check with your airline
Before boarding a plane with your electric skateboard, you should check with your airline directly to inquire about their policies regarding electric skateboards and other motorized devices. Different airlines may have different rules regarding whether they are allowed in checked or carry-on luggage, or if they are prohibited altogether. It's best to check in advance to avoid issues.
Step 2: Remove the battery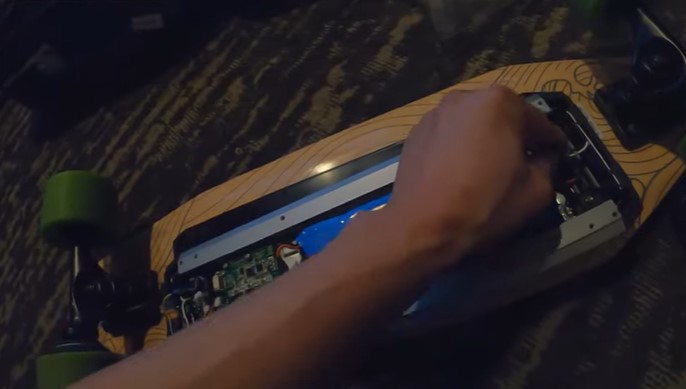 If your airline does allow electric skateboards, they will likely require that the lithium battery be removed from the device. The battery will need to meet safety requirements for transport, so check that it is properly encased and will not be a risk. You may need to show that the battery can be disconnected from the rest of the device.
Step 3: Pack properly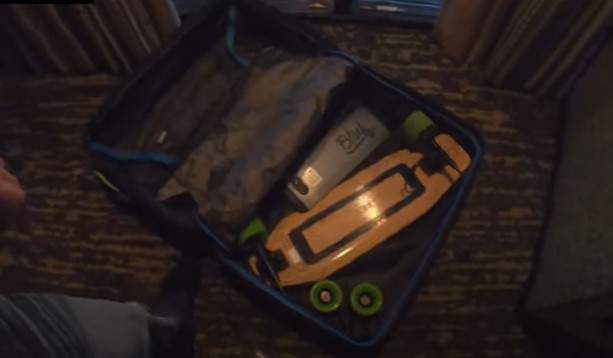 Whether checking the skateboard or bringing it as a carry-on, it's important to pack it properly to avoid damage. Use padding to protect the device from impacts. Clearly label the package as an electric skateboard and include any documentation about the battery.
List of Electric Skateboards Allowed On Planes
---
The MEEPO Mini Q1 Electric Skateboard is an ideal choice for skateboarders of all levels. This lightweight but sturdy board can support up to 110 lbs and offers a great ground grip with its 75mm PU wheels.
It has a 2000 mAh battery, allowing it to reach speeds of 11.9 MPH and cover a range of 5.59 miles once fully charged in just 1 hour with the included 1.5A charger. With four speed settings, beginners have the option to ease into their ride while experienced skaters can feel the thrill on mode 4 – making this electric skateboard perfect for any skill level!
And, its Hawaiian print design makes it as stylish as it is safe – which means you can take your skills everywhere!
Plus, you'll be able to answer "Are electric skateboards allowed on planes?" with confidence knowing that the MEEPO Mini Q1 won't weigh down your bag or purse in transit; at only 11 lbs total weight, this could be the best gift for any aspiring skater without breaking your budget.
---
The Teamgee H3 DIY Electric Skateboard Kit is an innovative way to build your skateboard with all the tools you need for a fun ride. It features a 480W brushless motor wheel, giving it up to 25KPH top speed and 9.3 miles per charge with its PU-driven wheels.
The multifunctional remote lets you switch between four different speed modes, accelerate, brake, and more – all within the palm of your hand.
Weighing only 9.9lbs/4.5kgs, this ultra-light yet stylish electric skateboard is perfect for hassle-free commuting and makes air travel easy as it can be taken on planes.
---
The IWONDER Electric Skateboard Backpack is a stylish, comfortable, and eco-friendly way to transport your electric skateboard.
With dimensions of 80cm x 24cm x 7cm, it can hold most regular skateboards and mini electric skateboards up to 15.5 lbs. It features curved shoulder straps for added comfort when carrying your board and has undergone strict quality inspection to ensure safe use.
So whether you're looking for a new way to get around town or need something that will be allowed on planes, the IWONDER Electric Skateboard Backpack is perfect for all ages!
---
Common Questions About Electric Skateboards Allowed On Planes
Are electric skateboards hazardous?
Due to safety concerns stemming from similar personal electric vehicles, electric skateboards have unfortunately been prohibited on commercial airlines. This ban penalizes safe and responsible electric skateboard owners and limits transportation options for travelers.
What is it about electric skateboards that are considered a hazard on planes?
Electric skateboards, like smartphones and laptops, utilize lithium-ion batteries for power. With safety in mind, it is critical to exercise caution with the lithium-ion batteries that power electric skateboards.
These rechargeable batteries, while enabling the skateboard's mobility, can pose risks due to their flammable composition. Proper charging, storage, and use are imperative to mitigating the potential dangers of these batteries.
Are electric skateboards allowed on planes?
With some forethought and careful adherence to regulations, electric skateboards can be safely transported on airplanes. By following recommended guidelines for safely packing lithium-ion batteries and notifying airlines in advance of your board, you can bring your electric skateboard along for the journey.
However, to ensure airline travel safety, electric skateboards must meet strict guidelines for battery size and safety, just as other consumer electronics do. By designing electric skateboards to conform to these same guidelines, they can become as portable and travel-friendly as the mobile devices we rely on daily.
What are the airline guidelines for traveling with electric skateboards?
For safety and regulation compliance, airlines prohibit lithium-ion batteries with a capacity exceeding 100 watt-hours in carry-on luggage. As such, if your electric skateboard has a battery of less than 100Wh, it would be permitted onboard.
For lithium batteries between 101 and 160 watt-hours, the FAA recommends you contact your airline in advance to obtain approval for safe air travel with your device.
Batteries with an energy capacity exceeding 160 watt-hours are prohibited from air travel and cannot be carried on as luggage on commercial passenger airlines. Shipping lithium batteries to your destination would require the services of a licensed freight carrier with proper hazardous materials handling experience and equipment.
What are other alternatives if your electric skateboard is over 160Wh?
Instead of transporting an oversized battery that violates airline restrictions, consider alternative solutions that comply with regulations. For example, remove the battery from your electric skateboard and safely transport just the board to your destination.
Once there, borrow or purchase a replacement battery to power your board.
Checking with your manufacturer or local distributor about temporary battery loan options may provide an ideal solution that keeps your electric skateboard adventure on track in a safe, responsible, and legal manner.
Video Are Electric Skateboards Allowed On Planes
Are you planning to take your electric skateboard on a plane? Probably the very next question is, are electric skateboards allowed on planes? In this video, you'll learn the best tips for flying with an electric skateboard.
Final Thoughts
So, are electric skateboards allowed on planes? To be clear, electric skateboards are generally allowed on planes as long as they meet the specific size and weight requirements of your airline. You should always double-check with your airline before bringing an electric skateboard onto a plane in order to avoid any potential problems or delays.
Although there may be some restrictions that apply, it is possible for you to bring an electric skateboard on board when traveling by air. With careful planning and knowledge about regulations, you can ensure that your trip goes off without a hitch while still having fun with your electric skateboard!